An intro since it's my first time: This will be a random set of links, pictures, videos, or audio.... Anything, really! Whatever tickles my fancy.
This time I'm going to stick to just one, and give you the names of some of my absolute favorite bloggers!
First up, we have The Dainty Squid!
Kaylah's blog
is actually the first blog that I started following a couple of years ago, even though I didn't have a Blogger. I had found her Flickr first, and then her Etsy shop, and finally her blog. I love her obsession with kitties, her beautiful craft room(s), her ever-changing hair, and her kitschy style! She likes thrifting and looking for mushrooms too, I love reading about her adventures! Plus, she's painfully shy, like myself, so when she pushes herself it inspires me too.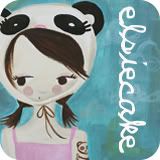 Elsie's blog
is next. I like her style, as well! She has such a positive take on life. I met her at Renegade Craft Fair 2010, but I highly doubt she remembers me. She's my inspiration because she's such a hard worker, always able to cram things in and push herself. I have no idea how she does so much in one day. She's gone a long way, and even has her own
boutique
now! I started reading her blog soon after I started reading Kaylah's, because she had a link to Elsie's on her page. She recently got married, too! I thought her wedding was adorable.
Here's
Nancy's blog
, a recent obsession of mine. She has the best style! I love how she's always on the lookout for the latest fashion trends. She even likes vintage. Harvey (her Cavalier King Charles Spaniel) is too cute! Her portfolio is amazing too. Check her out if you have any extra time, it'll be worth it! I can't believe I fell in love with a blog that quickly, but she posts some really interesting stuff!
Silje's blog
is another great read. I started reading her blog soon after I started reading Elsie's, since they were both involved with Red Velvet Art at the time. Silje's obsession for makeup, paint, and yarn made me interested. I love her little chihuahua too! She makes the most adorable paintings of pets, as well as other things. I envy her knitting skills. She's also a tattoo artist, and I find it really lovely to read about what she gets up to while working!
Lastly, we have
Gala's blog.
She lives in New York and is living the dream! Her life is filled with whimsy, and she's created it all herself, which I really admire. She's always up to something or the other, in terms of projects. She also shows snippets of her own life, like what it was like to meet Betsey Johnson, for example! More than anything, I like her positivity; she's always looking up and encouraging others to do so as well.
And there you have it, folks! I can't believe I ended up writing so much. Anyway, check them all out. If you couldn't tell from my rambling, they're fabulous and really inspiring. I read their blogs (mostly) everyday to keep positive and to get inspiration to do something wonderfully creative with my life. There are many more that I also read, but perhaps I will save that for another post!
What are some of your favorite blogs?
<3 Linda